When looking to buy a car, the average South African looks for affordability and fuel-efficiency. The most fuel-efficient cars are normally the electric/hybrid models that comes at a more costly price. Cars.co.za has had a look at more significant vehicles over a variety of models to create a list with the more affordable fuel-efficient cars that the average South African can afford.
The figures used in this article are the claimed manufacturer fuel consumption figures and might differ from actual expenditure depending on how you drive your car, the conditions of the roads that you drive on, etc.
With an asking price of under R300 000, here are the most affordable and fuel-efficient cars currently available in South Africa.
Ford Fiesta 1.5 TDCi
Priced between R241 900 and R248 900 for the Ford Fiesta Trend has a fuel consumption figure of around 3.6 L/100km. Producing 55 kW and 183 Nm of torque this little monster get its power from a 1.5-litre turbodiesel. The power gets transmitted to the front wheels by means of a 5-speed manual gearbox. The Ford Fiesta proves to be one of the most popular cars in South Africa.
Renault Captur 66kW dCi Dynamique
Introduced in 2015, this is one of the newer models, launched in August 2016 and starts at around R289 900. Using a 5-speed manual transmission, the Renault Captur spin-off is powered by a 1.5-litre turbodiesel engine delivering 66 kW and 220 Nm of torque. Because of its fascinating style and neat packaging this vehicle has been a hit among South Africans since it has been released.
Fiat 500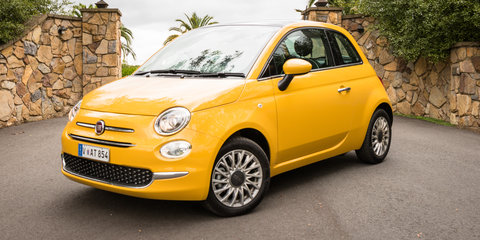 Dubbed as the breadwinner for Fiat in South Africa, the 500 starts at R179 900. With a fuel consumption figure of 3.8 L/100km the Fiat 500 can be had as a hard top or convertible with a very efficient 63 kW/145 Nm 0.9-litre TwinAir turbopetrol engine. The Fiat 500 has recently been revamped and modernized with some adjustments and alterations to the exterior styling and interior appointments. This adorable and very able car is perfect for built-up urban environments.
Citroen C1
Available in the Citroen Feel and Airscape Feel this car starts at R149 900, is one of the most affordable fuel-efficient cars on the market and perfect for first-time buyers, students and generally younger consumers. Transferred through a five-speed manual transmission the C1 get its power from a three-cylinder 1.0-litre petrol engine with 51 kW and 96 Nm of torque. This hip and fashionable car comes with a sliding soft top panoramic sunroof to let the air through on those long summer drives along the coast.
Ford Figo 1.5TDCi
With the Ford Figo 1.5TDCi Ambiente starting at R193 900 and the Trend going for R203 900 This car is also a popular choice among first-time car buyers. With its five-speed manual gearbox this motor offers 74 kW and 215 Nm of torque. The evolved 1.5-litre turbodiesel performs at its peak with a claimed fuel consumption figure of 4.1 L/100km.
Smart ForTwo / ForFour
For something more contrastive, the Smart- ForTwo and ForFour ranges between R174 900 and R179 900. Both derivatives are available in a five-speed manual, with the ForFour also available in a six-speed dual-clutch automatic transmission. Powered by a three-cylinder 1.0-litre petrol engine with 52 kW and 91 Nm of torque. The ForTwo proves to be more cost-effective with a fuel consumption figure of 4.1 L/100km while the ForFour claims 4.2 L/100km. this car is perfect for the big city life and its compact size makes it easy to move through traffic.
You can be the owner of one of these affordable cars by simply comparing quotes on MisterCompare.co.za where you can apply for Car Finance and on approval of your Loan, also compare quotes for Car Insurance. MisterCompare promises to bring you the most affordable and trustworthy insurance and financial products.