Having a car and maintaining it can be quite strenuous on the pocket. Imagine you buying a car, having it modified with all the latest in car accessories and something unfortunate such as a fire break out and there's damage to the car or in a worst case scenario your car gets stolen; what would the financial loss amount to?
This is something that you wouldn't have to worry about if you have made provision for these unfortunate happenings in life by taking out Car Insurance. Car insurance can be classified as short-term insurance and is especially important in providing cover in case of financial loss and or damage to your vehicle.
What are the different types of Car Insurance policies that is available on the market?
The below policies are the basic Car Insurance policies available:
Comprehensive – this type of cover will cover you as well as a third party in the event of an accident that is your fault. If you don't have comprehensive cover you will have to pay for any damage to your own vehicle out of your own pocket. Even in the event of your car being written off, you will have to carry the cost should you not have comprehensive cover.
Third Party, Fire and Theft – mainly covers the third party involved but also covers you in the event of fire damage to the vehicle, damage to the car due to theft or attempted theft and you will also be covered in the event of your vehicle being stolen. In other words your car will be replaced under Third Party, Fire and Theft Car Insurance.
Third Party – this is the most basic type of insurance (also the cheapest) you can get and offers cover for the third party only. In the event of an accident it will cover to costs of damage to the other person only as well as any medical expenses of the driver of the other vehicle.
How can I lower the premium on my Car Insurance?
Insurers take a whole lot of different factors into account when determining how much you will pay to have your vehicle covered.
The type of car that you drive – this has the biggest impact on the cost of your insurance as bigger cars will be more expensive to get insured. The make, size of the engine and value of the car is taken into account.
The security measures you have in place to keep your car safe – one of the first things insurers check is to see if you have an alarm system. If your car has an immobiliser your car insurance premium will be even less. Installing a tracker in your vehicle will lower the price even more. They will also enquire about whether you park your car in a garage or not.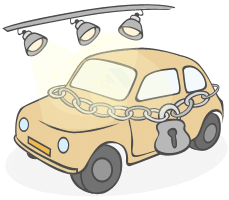 Are you the owner of the vehicle and who mainly drives it – the owner of a car and the one who drives it might necessarily not be the same person. In this case the insurer sees it as a bigger risk and will up the premium.
What do you use your car for? – It is important for the insurer to know what you mainly use your car for so that it can be categorized under the right usage category.
The type of insurance that you take – depending on what package you take, be it Comprehensive, Third Party, Fire and Theft or Third Party Only, it will also have an impact on the pricing.
Studies have shown that more than half of all motorists in South Africa does not have their vehicles insured. With the dangers lurking on our roads, by choosing not to have Vehicle Insurance is a huge financial risk that you are undertaking.
Be responsible and compare quotes today to get yourself covered. Should anything happen to your vehicle you would have the peace of mind that you have Car Insurance that will place you in the financial position that you've been comfortably living with.
- Enzo Leigh Botes